Side-Sleepers Pillow: Care For Your
Skin

While You Sleep... The Beauty pillow: our satin anti wrinkle anti aging side sleeper pillow is designed to simply flow with your facial skin as you sleep! A must-have for side-sleepers that want to wake to a less wrinkled tomorrow! Works well with the best eye creams and the best face creams..... (ideal size for travel) Scroll to read more ...

Delivery Available Worldwide
More...
The Beauty Pillow...
---
The Beauty Pillow, Satin Multi-Layer Technology / Anti Aging Anti Wrinkle ! Way back in 2003, the concept of the multi-layer pillow for side sleepers came into being. After much research, we came up with the optimum size to fit snuggly under your face so that your shoulder does not hinder the flow of the material.
As you can see, you can use The Beauty Pillow on top of your normal pillow. We found that it's best used on its own and as with any gadget you need a few days to get used to positioning yourself on The Beauty Pillow to get the maximum flow and the full benefits of this unique pillow.
With the optimum designed size we also found it's ideal for travelling, so you never need to ever be without The Beauty Pillow. You will always look fresh-faced on waking wherever you are - at home or on your travels...
People use botox to stop expression lines and wrinkles. Botox will NOT work on sleep lines. Sleep lines are wrinkles caused by sleeping on the side of your face night after night. If you want to be a sleeping beauty help yourself to alleviate sleep wrinkles and sleep lines. The Beauty Pillow is a must-have addition beauty regime ... this is what 'The Beauty Pillow' can do for side sleepers Between ages 18-25 you may stop lines from being formed. Between ages 25-35 night lines may be reduced in depth. From 35 onwards your skin should look less stressed when you wake.
---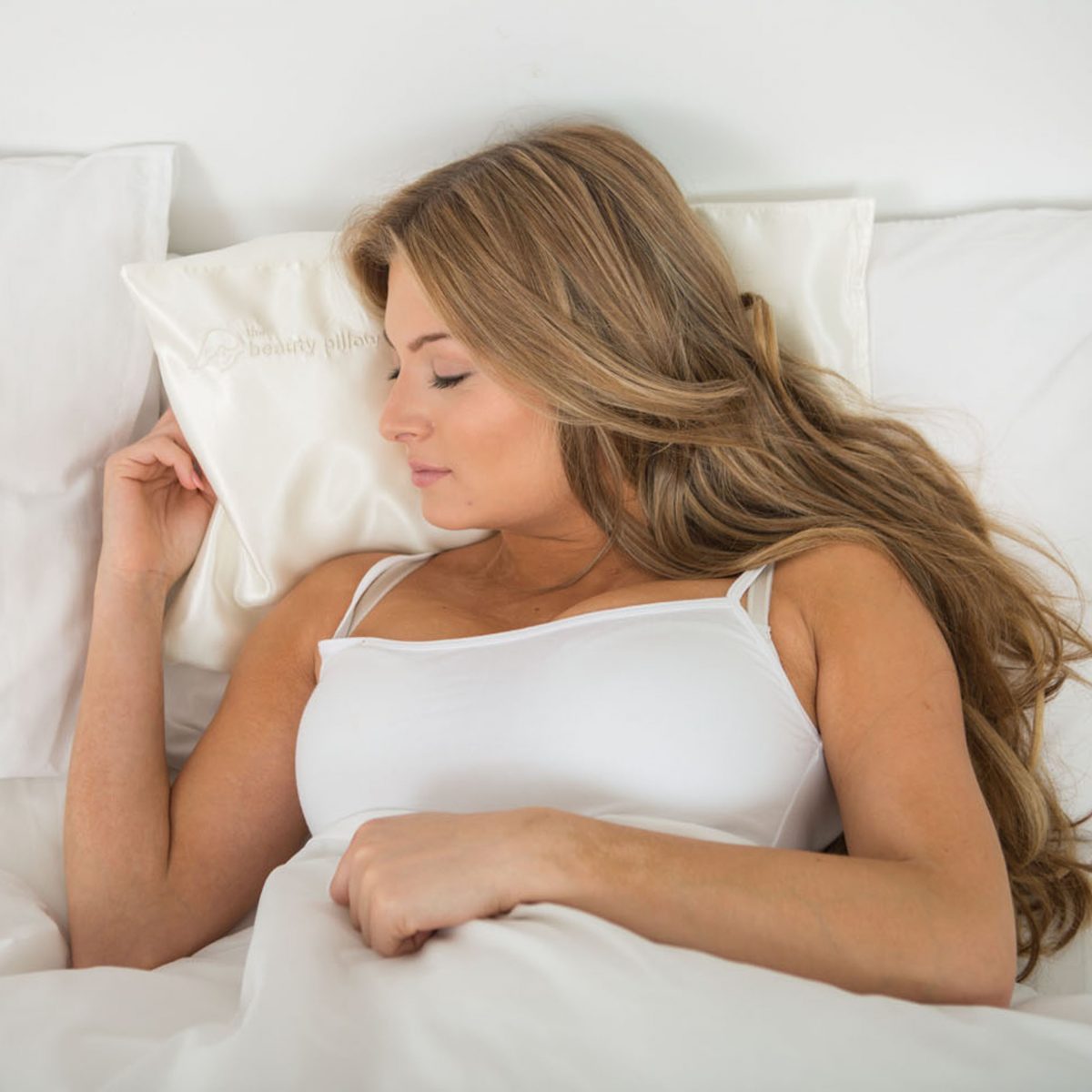 Anti ageing Tips ...
blog

if you have little gems please get in touch...
Your data? Read the bottom of contact page!
Here is A bit more information on'The Beauty Pillow' one of 'best skin care products' Our anti aging/anti wrinkle multi-layer satin 'side sleeper pillow' that works well with your 'best pillow' and 'the best anti aging cream. pregnant? sleep on your side? The Beauty Pillow is a great anti-wrinkle 'maternity pillow'……
The Beauty Pillow (buy in confidence with PAY-PAL)
first, what are wrinkles? crows feet, laughter line, frow line, etc are cursed by your skin being attached to your mussels under your skin! Sleep line, sleep wrinkles morning-check lines, whatever you like to call them are formed by the way you sleep. Repeated folding and creasing of your skin as a 'side sleeper', against your pillow while you're sleeping, can cause permanent wrinkles. even the best anti aging creams will not stop this type of wrinkle happening. With age, the skin's elasticity decreases, thus compounding the effect of wrinkles. Prevention is much easier (and less costly) than reversal!
Our pillow is an innovative Gadget type pillow for side sleepers, a technological breakthrough in using satin with its multi-layers, this cost-effective anti-wrinkle product that can reduce the appearance of your sleep lines and wrinkles!
One of our other anti-wrinkle products is The Beauty Pillow Eye Mask protects the eye area and work well with the best eye creams……..
Ellie on our video on the home page will inform you with all you need to know about what The Beauty Pillow can do for you!
Devoted users of The Beauty Pillow, who cannot sleep without it, have reported the following benefits:
    Reduction of sleep wrinkles caused by continued pressure on facial tissue during sleep.
    Relief from pressure on existing wrinkles on their cheeks, under-eyes, and forehead.
    Retention of night creams, i.e., the pillow doesn't absorb cremes or lotions.
    Longer lifespan of lash extensions by prevention of friction with their pillows.
    Optimal healing and more comfortable sleeping after facial surgery.
    Increased comfort for those pregnant users who have had to begin sleeping on their sides.
Why is sleep commonly referred to as 'Beauty Sleep'? Because the way in which you sleep can actually age the appearance of your skin, which is why we have developed the amazing and unique Beauty Pillow! The Beauty Pillow simply flows with you with your skin as you sleep,  it's as to be the most cost-effective beauty product on the market by helping to reduce sleep lines that can cause wrinkles and creases in your face as you sleep on the side of your face…If you live in Hull please vist www.bodybeautifulhull.co.uk  we also have an older site that been around 6 years or more and as bit more information on it www.thebeautypillow.co.uk